Hi everyone, Laina here!
First and foremost, I'd like to remind everyone that there is 1 week left to enter our first blog challenge! We've already seen some gorgeous layouts so far. Submit your layout and enter to win a $5 danimoy designs coupon!!
Click here to find out more about the blog challenge.
Now, on to this week's hybrid post! Cupcakes :) I decided to make cupcake wrappers and toppers using Bahama Mama
First, here's what you'll need:
Cupcakes (homemade or store bought)
Color Printer (with color ink)
I designed the toppers as follows: I first created a 2 inch circle and created a slightly smaller inner circle. I then placed the circle frame around the inner circle and finally placed an element in the middle. You can see I alternated the elements in the center to create 3 distinct toppers. I added shadows and here's what I came up with:

I changed the element in the center to create 2 alternate cupcake toppers. I then placed 12 cupcake toppers on a 8.5x11 sized document and printed them out. You can see the document below:
I used a template to make the wrappers. I clipped the orange and pink papers to each wrapper. Then, with both cupcake wrappers placed on a 8.5x11 sized document I simply printed and cut them out.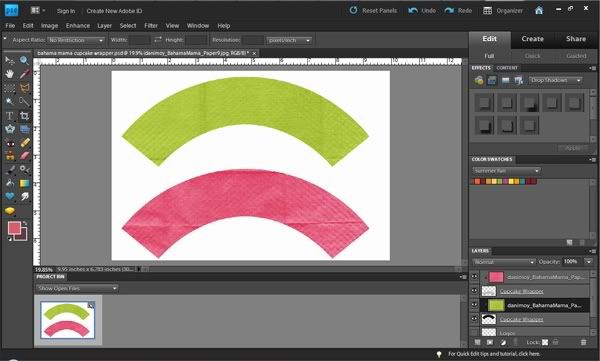 Finally, I assembled the toppers and wrappers. I taped 1 toothpick on the back of each topper and glued the edges of the wrappers together. Here's the final decorated cupcakes!