Hi danimoy fans! Laina here, I am excited to bring you our blog's first Hybrid Post. In weeks to come, I will post hybrid posts twice a month on Fridays!!
Today we are going to make a buttefly tag, perfect for gifts, made with danimoy's Flutter found here at
Gotta Pixel
or
Scrapbook Bytes.
To complete this project, you will need:
A scrapbooking kit of our choice
Template provided
A printer with color ink
White Cardstock
Ribbon (I will use a dark blue ribbon)
A hole puncher
Small scissors/Xacto Craft Knife
Pop-up glue dots
I have provided you with a template for the tag, which you can download by following this link:
Download here
Once you have downloaded the template, you can open it up with Photoshop and begin adding your papers and elements.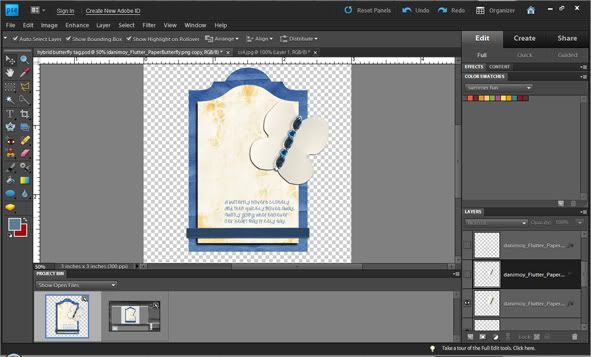 I decided to leave out the top butterfly and the three smaller butterflies out of design for now. Instead of placing them digitally, I will print them out, cut and glue down with pop-up glue dots. I made the three smaller butterflies are about 1 sq. inch in size and the larger butterfly is about 1 1/2 sq. inch in size to print. In order to figure your sizes out, you can place them on the template to get an general idea of what size element you wish to have and then create a new document with them to print, separately like my below.
After printing on cardstock, let the tag and additional elements dry for at least 5 minutes. Now you are ready to start assembling the gift tag!
I cut out the butterflies, attached them with glue dots. I also decided last minute to add ribbon on top. Then I punched a hole at the top and threaded the ribbon through.
Here's my final butterfly gift tag!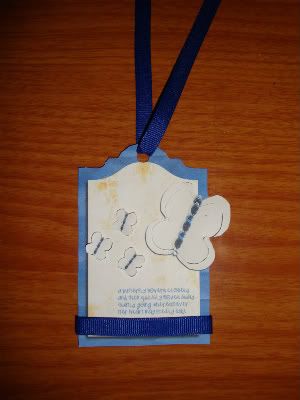 If you decide to use the template and one of danimoy's kits, we'd all love to see the results! You can post a photo of your completed hybrid project at one of her store galleries (Gotta Pixel or Scrapbook Bytes)